(Let me start by saying "please comment" – especially if you were at Saturday's meeting – SDEC member or no, we need everyone's take on what's happening in the state party so please comment at length!)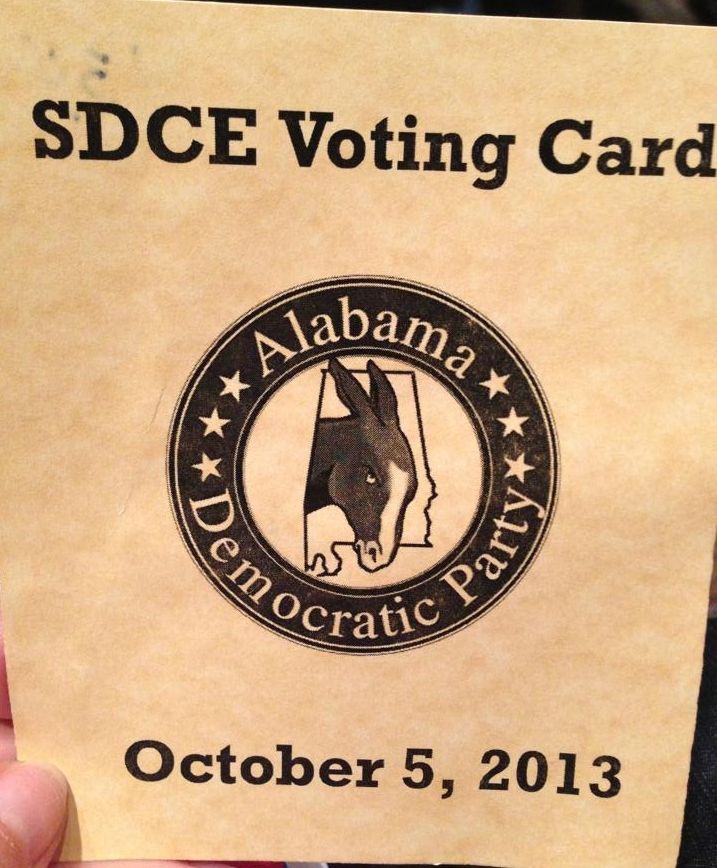 Like many other SDEC members, I was early for the meeting. Again like many of them, I was "checked in" – given a card I was told I needed to vote (it was never required) and a copy of the revised agenda, and told I had to wait outside the meeting room as it was being used by the Minority Caucus.
Despite knowing ahead of time that there would probably be record attendance at the meeting due to concerns over proposed amendments, the powers that be at the ADP cut the size of the meeting space in half (originally scheduled for 2 ballrooms, we met in 1). I'm lucky that DemoGirl was next to me and didn't mind my sitting in her lap (just kidding, but not by much).
Meeting called to order, we pledged allegiance to an imaginary flag and heard at some length from the interim Chair, Nancy Worley. At one point when she was calling the meeting to order, she mentioned her history as an educator. If there was a question in any attendee's mind, it should have been dispelled when we were treated to a lecture on how we should not be critical of other Democrats. One good takeaway – if you have a state rep or state senator who has stayed a Democrat, write them a "thank you" note.
We finally finished the housekeeping part of the agenda and moved on to New Business. (Point of personal privilege to tell you how depressing it was to hear all the silence during the roll call – CONTACT THE MEMBERS for your DISTRICT and ask how they voted today. If they tell you they weren't there, ask why not. If you don't know who your members are, post your State House District in the comments and I'll find out for you.)
First we filled vacancies – the new Vice Chair for Labor is Clint Daughtrey (when asked of what union Daughtrey was a member, Dr. Reed stated "AEA"). Vice Chair for County Affairs is William Pompey. Moving on, we addressed open membership slots. A number of so-called minority appointments, and 2 other open district slots. About 10 slots remain vacant.
Then we elected the interim Chair to be the permanent Chair (no surprise there) and followed that by electing former SDEC Chair Redding Pitt to the now-vacant Vice Chair position.
On to deciding when to open qualifying for the 2014 elections. The Chair presented the choice of 2 dates, both after the first of the year. She related that in her experience, and after hearing from candidates, they did not want to go through the holidays in campaign mode. After way too much discussion we eventually voted to allow for flexibility in the dates to better accommodate potential speakers. Yes folks, it will be an SDEC trifecta – Jefferson-Jackson dinner on a Friday evening followed by an SDEC meeting and he opening of qualifying, sometime in February.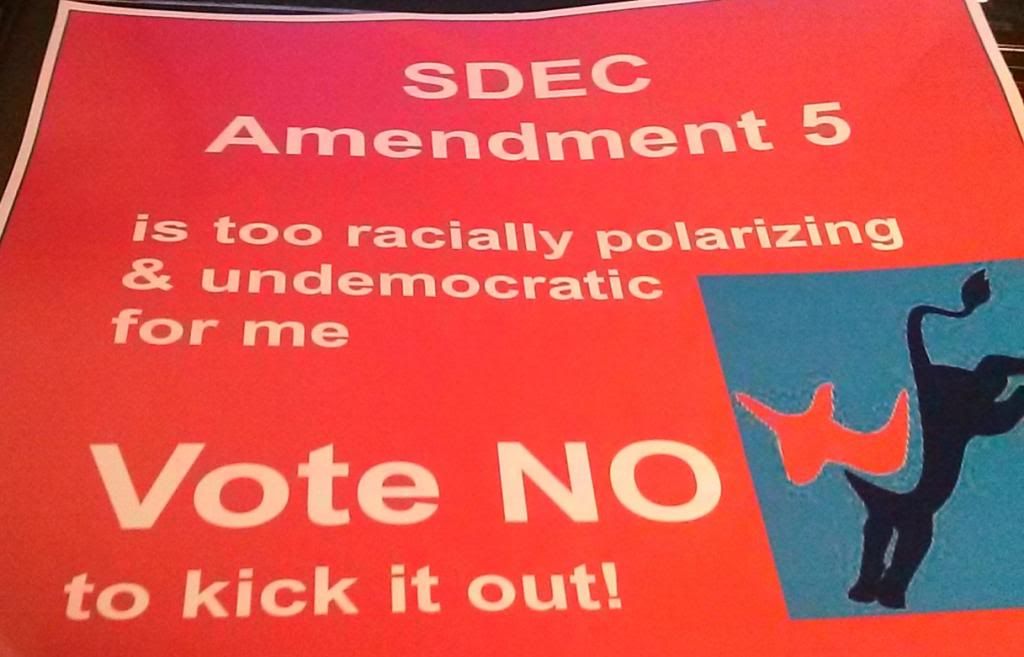 Finally we get to the reason the public gallery was full – Proposed Amendments 1-5. When Chair Worley announced that we had come to that part of the agenda, Dr. Reed almost tripped over himself getting to a microphone so he could move to table them all.
In the past, the committee has used tabling an amendment to in effect kill it (see, for example, the AFDW Amendment). I have to wonder, though, if Amendment 5 will reappear at some point.
Why do I think that? Well, among other things, I found an untitled piece of paper on the floor of the meeting room after we adjourned. It sure wasn't anything I was handed when I checked in to the meeting, so I concluded it was probably left from the Minority Caucus. What is it? A list of the 2012 Democratic Presidential Results by county, sorted by percentage. Look at this list and compare it to the printed numbers.
Since it's been established that the data specified in the Proposed Amendment 5 does not exist (vote totals for President by state House District), I can't help but be suspicious that Amendment 5 will be back, adapted to evaluate by county. I hope I'm wrong.