(Shocking story, but sadly… not surprising. – promoted by countrycat)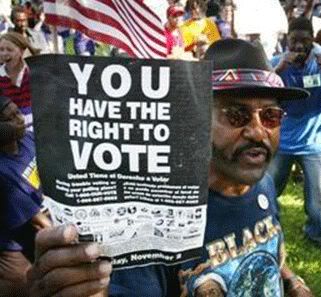 Probate Judge Don Davis appeared before the Mobile County DEC to explain the irregularities some voters encountered at the polls during the primary last March.
He supposedly spoke to a list of questions given to him in advance, did not take questions from the committee (although he did make time to speak to the media), and high tailed out of the HQ as soon as he finished speaking. Not only did he not address the questions, he answered questions that were not asked, I guess trying to give the appearance of being forthcoming. It didn't work.
For those unfamiliar with the details of what led up to this, I'll lay it out after the jump. Be warned, this is long but important – I really think this is a way to suppress voting without passing a new law, which means they can use it NOW, no need to wait until 2014 or pass a DoJ review.
A number of times last night Judge Davis referred to this sequence of events as "accidental". Read on and make up your own mind.
Briefly, the probate office contracts out printing ballots, rolls, etc before the election. For last year they included in the RFP (Request for Proposal) creating & sending reminder cards to voters on the rolls.
A small but germane digression: the cards are sent by Bulk Mail. Commercial bulk mail requires matching your address list to the addresses the US Postal Service has on file. Governmental agencies do not have to adhere to this requirement.
So, the low bidder for the primary was the Mobile Press Register. They evidently didn't get the word that the address database didn't require matching since the mailing was for the Probate office (gee, I wonder who dropped THAT ball?) and so ran the voter addresses against the USPS address database. No surprise, they got 20,000 addresses for folks who got mail at a different address than was on the voter roll. How many college students, PO box users, union workers, etc are in that 20,000?
Judge Davis didn't answer that question. He kept hammering on a state law that says people have to vote in the precinct where they live AND that if election officials know folks don't live in that precinct, you can't let them vote under penalty of law.
I'm sorry, but you didn't KNOW those folks didn't reside at the address on their voter registration form. All you KNEW was that they didn't get mail at that address. Those are 2 very different things.
Judge Davis proceeded to tell us they consulted their legal team and used the years of experience amassed by himself & his clerk, and decided that they would highlight those names on the roll. If your name was highlighted, when you showed up to vote, you were not handed a ballot. You weren't even asked to verify your address and then allowed to vote (after filling out a change of address, if necessary).
No, those were the LEGAL ways to handle it. Instead, you were sent to a separate table to be interrogated by the poll inspector and chief clerk about why you didn't get mail at the address where you were registered to vote. No guidelines were given as to what was acceptable/unacceptable so whether you were allowed to vote was at the discretion of the precinct staff.
Does that sound right to you? To give you some idea how egregious this is, the current Republican AL Attorney General said it didn't sound right to him, either.
By the way, this has been covered by the Mobile Press-Register, but since they're involved, some might view them as a suspect source. Here are some links:
Conflict arises over how to treat Mobile County voters whose addresses don't match registration
Mobile County election procedures challenged in Alabama attorney general opinion
Takeaways:
1) Judge Davis as much as said he's not going to abide by the AG's opinion, calling it "confusing"
2) How will this affect future elections? Can voters going to vote in September expect this treatment to continue?
3) When will the Justice Department step in and address this violation of voting rights?
Those who came before us did not fight for my right to vote so a Probate Judge could take it upon himself to decide whether or not I could vote.
And yes, unless this practice is smacked down HARD I expect we'll see it done in other counties, maybe even statewide. Please join me in contacting the AG's office and the Department of Justice