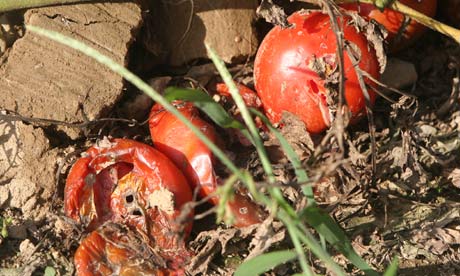 All our local Republicans predicted that passing HB56 would make everything come up roses for Alabama. If we just make the "illegal" workers leave the state, then American citizens will start lining up to fill their shoes.
Senator (and HB56 sponsor) Scott Beason (R):
"This is a jobs bill. We have a problem with an illegal workforce that displaces Alabama workers. We need to put those people back to work. That's the No.1 priority"
HB56 sponsor Rep. Micky Hammon (R):
"This is a jobs-creation bill for Americans"
Senate President Pro Tem Del Marsh (fact check here):
"Opponents of the law like to say that Alabamians won't work the same jobs illegal immigrants are working. That's simply not true. "
North Alabama Congressman Mo Brooks (R):
"With respect to illegal aliens who are now leaving jobs in Alabama, that's exactly what we want."
Governor Bentley, glossing over the trivial fact that these jobs don't offer "a decent day's pay":
"There are people today who want these jobs," Bentley said in announcing the program. "I think it is almost insulting to say people in Alabama won't do a hard day's work for a decent day's pay."
Like so many Republican predictions (based on heavy consumption of conservative Kool-Aid) the assertion that Americans would be lining up for jobs vacated by immigrants is turning out to be a dud.
K& B Farm owner Brian Cash watched 85% of his workforce disappear in one day.
From Alabama's HB56 and the Dark Side of Fake Economic Fixes at The Nation:
The architects of this mandate claim that if we drive undocumented workers away, there will be more jobs for American citizens. Years of evidence and early reports from Alabama tell a different story. Famers are already reporting a crisis in their workforce that will hobble harvests and drive food prices higher. One farmer reported that he had only eleven citizens apply for the picking jobs after his crew left, only one stayed to take the job after learning what was entailed—and that man quit after one day. Alabama farmer Chad Smith told Forbes, "The tomatoes are rotting in the vine, and there is very little we can do." "We will be lucky to be in business next year," he added.
From Where Are the Workers? in today's Florence Times-Daily:
Jerry Spencer's experiences in the past three weeks trying to replace immigrant workers with unemployed Alabamians illustrate — at least in part — the fundamental flaws in Alabama's new anti-immigrant law.

After most of the undocumented immigrants farmers relied on left Alabama out of fear of being arrested, Spencer, director of Grow Alabama, began hiring unemployed native Alabamians to harvest a tomato crop. What he found was that few of them had the physical stamina to do the work, and few were willing to work at the wages offered.

Of the more than 50 people he recruited, he told the Associated Press, only a few worked more than two or three days, and only one remained for more than two weeks.
Supply and demand pipe-dreams like HB56 may smell like a bed of roses in the ivory towers (or is it turkey blinds?) where conservatives hatch their cockamamie plans, but get them out in the real world (HB56's proponents apparently spend very little time there) and they smell more like a field of rotten tomatoes.